High School Counselor Info
Counselors are the backbone of student success in high school, college, and beyond. A dedicated and passionate counselor can alter a student's life and prepare him or her for future achievements inside and outside of the classroom.
ACTA understands that many school counselors serve several hundred students and that it's hard to identify the best resources to help guide students through the college selection process. What Will They Learn?® is designed to help counselors connect motivated students with colleges and universities that offer challenging and coherent general education programs. At most universities, the core curriculum makes up about one third of a student's academic program. Whether students graduate with the skills employers demand above all—the capacity for critical analysis, oral and written communication skills, intercultural fluency, etc.—is often determined by the rigor of a school's core curriculum.
The new What Will They Learn?® website also provides counselors with information to help students and parents answer many other important questions that arise during the college search. Which universities offer a high-quality education at reasonable price? Are universities graduating most of their students in four years? Does the university offer well-designed programs designed to foster academic excellence?
ACTA understands that families often have questions about the value of liberal arts majors in the 21st century. We encourage you to direct students and parents to our What Employers Say page. This page provides information about the competencies that are in highest demand in the 21st century labor market, and it includes testimony from successful CEOs, entrepreneurs, and business leaders about how their own experience in the liberal arts shaped their careers and prepared them for important leadership roles.
The Numbers Tell the Story page provides an at-a-glance overview of the data from our most recent What Will They Learn? publication. One-third of colleges and universities earned a failing grade, but there are also some hidden gems to consider, colleges that boast strong curricula, high graduation rates, and reasonable tuition rates.&
The Knowledge Crisis page details an astonishing deficit of understanding in core arts and science disciplines. ACTA's research over the years has deepened our concern that an overall deterioration of general education programs has contributed not only to increasing employer dissatisfaction with college graduates' career readiness, but also to the ongoing decline in civic competency and civility in the public square.
The FAQ page will help answer many of the remaining questions you and your students may have. Other Resources contains links to important information about academic freedom and viewpoint diversity on campus, admissions exams, and student loans and the student debt burden.
For any interested parents, we encourage you to have them take a look at What's a Parent to Do? How to Help Your Child Select the Right College.
What Will They Learn?® is committed to helping high school counselors, and we are always looking for more ways to assist you and your students.
Experience What Will They Learn?®
Request your own copy of What Will They Learn?
We encourage counselors to use this site during their meetings with college-bound students. This website is easy to navigate and free to use. If you would like a physical copy of our latest edition, please email WWTL@GoACTA.org and mention that you are a school counselor. Our team will send you a complimentary copy. You may also download a pdf copy of our report to print extra copies for your school.
Interested in What Will They Learn?® visiting your school?
We know high school counselors are busy and overworked. Let us host a session at your school about the benefits of What Will They Learn?® and demonstrate to your staff or students how to get the most out of this resource. We offer presentations during school hours and are willing to attend your school's college night. We can also work with your team to setup a Skype video or an online recording for interested schools. If you are interested in working with a What Will They Learn?® representative, please contact wwtl@GoACTA.org.
Visit us at your state counselor conference!
You can find What Will They Learn?® at many statewide school counselor conferences throughout the country. Visit our booth for more materials and fun swag or attend one of our sessions for additional information.
We will be at the following upcoming conferences:
Lone Star State School Counselor Association of Texas—November 3–5, 2019
Are you a counselor at a college or a part of the admissions department?
An important purpose of What Will They Learn?® is to empower students to choose colleges and universities on the basis of whether they prioritize academic rigor. While this page is designed for high school counselors, we also work with college administrators and marketing departments to help publicize A-rated schools. In the past, we have assisted in the development of local and national advertisements, pins, and other marketing materials. For more information, please contact us at wwtl@GoACTA.org.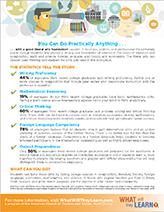 Our Liberal Arts Success flyer provides data on what employers are most looking for in recent graduates entering the workforce.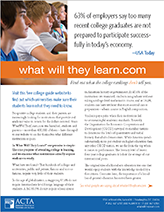 Our What Will They Learn?® flyers provide general information on the project and can start the conversation on important topics to discuss during the college decision process.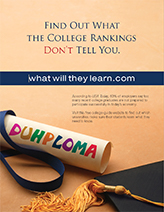 Our office poster invites students to check out the website.
Please visit our Other Resources page for information about student debt, loans, and other resources for college bound students.
What Counselors Are Saying
"I've found the WWTL Guide to be extremely helpful as I counsel my students to look for colleges that respect them as serious learners… My students and their parents appreciate being able to quickly glean which colleges are providing a meaningful education."
—Becky Priest
College Counselor, The Cambridge School